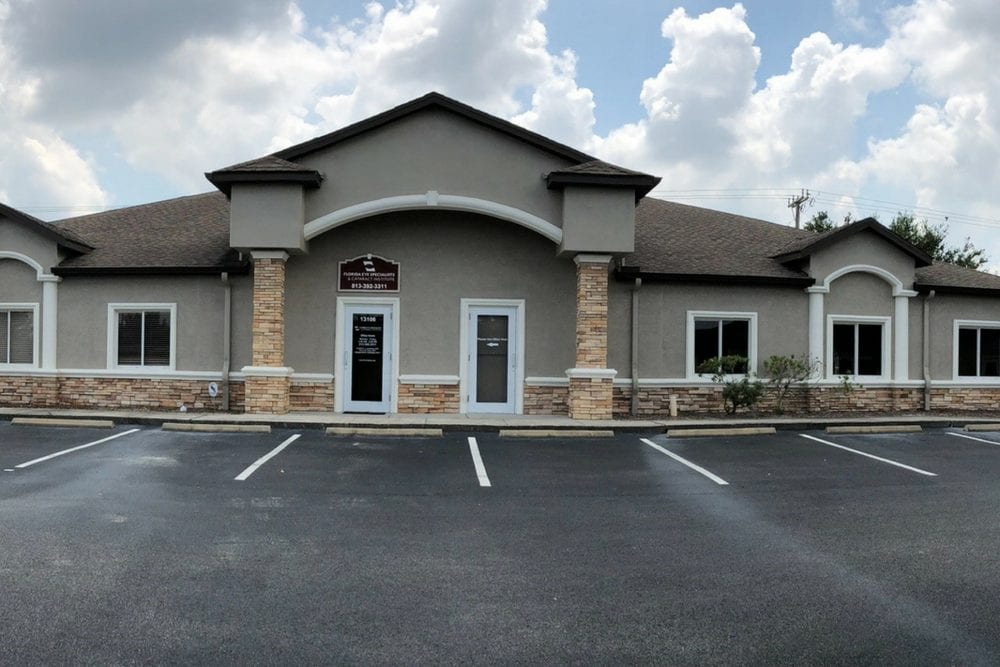 Florida Eye Specialists and Cataract Institute was founded by Gregory L. Henderson in 1981. Our doctors are some of the most highly-trained and experienced in their field, utilizing sophisticated state-of-the-art technologies to examine, diagnose, and treat all types of eye conditions and diseases. Our doctors serve four separate locations in the Tampa Bay region which are located in the cities of Brandon, Sun City Center, Ruskin, and our newest in Riverview.
Bringing Florida Eye Specialists and Cataract Institute to Riverview was an easy decision, as Florida Eye wanted to serve its growing community of patients and new members of the thriving community. Riverview is a budding city in the Tampa Bay region with a great school system, a plethora of housing developments and recreational facilities. In February 2018, Riverview was ranked No. 7 of 10, for top boomtowns in America. The study measured the GDP growth rate, net migration rate, housing growth rate, including the annual change in the unemployment rate.
The Riverview office is operated by three accomplished ophthalmologists. Dr. Ronni M. Chen completed both a Residency in the Department of Ophthalmology and a Fellowship in Pediatric Ophthalmology and Strabismus at Baylor College of Medicine in Houston, Texas. Dr. Chen specializes in Eye Muscle Surgery of the Strabismus and Nystagmus and is one of the top doctors in the Tampa Bay area, focusing in Pediatric Eye Care. Pediatric Eye Care is essential in maintaining your child's eye health. During a comprehensive pediatric eye exam test, Dr. Chen will test all aspects of your child's vision and be able to distinguish any visual disorders or disease and provide treatment.
Dr. Charles A. Luxenberg completed his Residency in Ophthalmology at the University of South Florida Medical Center in Tampa.  Dr. Luxenberg specializes in Primary Eye Care which focuses on but not limited to, common eye conditions, including dry eye treatment, routine eye exams in addition to Pediatric Eye Care and Uveitis.
Dr. Marguerite Kohlhepp specializes in Retina eye care. She completed a Residency in the Department of Ophthalmology at Catholic Medical Center in Flushing, New York, and a Fellowship in Vitreo-Retinal Surgery at the University of Nebraska in Omaha. Dr. Kohlhepp focuses on various diseases and treatments of the eye including Diabetic Retinopathy, Inherited Retinal Degenerations, Macular Degeneration Retinal Detachment, Retinal Tear, Retinitis Pigmentosa, Uveiti, and Flashing Lights and Floaters. In addition, she also concentrates in eye cancers such as Ocular Melanoma and Retinoblastoma.
Next time you're searching for "ophthalmologist near me," our Riverview Clinic provides full-service eye care, from general to pediatric ophthalmology, thus treating patients of all ages, from newborns to the elderly. Contact us today to schedule your next eye exam with one of our doctors.