Cataracts affect more than 24.4 million Americans age 40 and older. Cataract surgery is one of the most common and most successful surgical procedure performed today.
Getting Cataract Surgery
The decision to undergo cataract surgery is not just about improving your vision. Many patients share that as their cataracts progress (and their vision worsens), their quality of life decreases until their life becomes dark and gloomy.
Ways Cataracts Negatively Impact Your Life:
Loss of reading vision.
Inability to distinguish colors.
Discomfort or inability to drive at night.
Poor/Limited overall vision.
Your Quality of Life
Vision loss has been linked to depression because patients are no longer to do the things they were used to doing. Some lose their independence because they are no longer able to see properly to drive. Some stop their activities and hobbies because they are no longer confident they can manage on their own.
After cataract surgery, patients feel like they have their life back. Some may even experience sharper vision than before their surgery – giving them back decades of eye vision.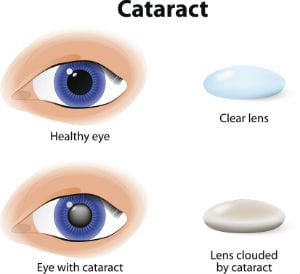 Patient Story
Brenda and her husband booked a trip to Italy where they would stay along the Amalfi Coast – something they had longed to do. When she was unable to distinguish the colors of the buildings and the water in the same way her husband was describing she started to no longer take joy in seeing the world. After waiting five years, she finally contacted Florida Eye Specialists and Cataract Institute for a consultation to address her decreased vision. After her cataract surgery, she was amazed at how much more vibrant colors were. She no longer needed extra light to read or focus on items. After their first vacation post cataract surgery, Brenda's husband wrote to their physician the difference they made for his wife. "Cataracts limited my wife's desire to be active. This surgery gave us the freedom to take the trips we always wanted."
"My whole being feels happier… seriously happier."
Making the Decision
According to the American Society of Cataract and Refractive Surgery (ASCRS), 3 million Americans undergo cataract surgery each year. The overall success rate is 98% or higher.
When the 2% of cataract surgery complications, most are minor and can be successfully treated medically or with additional surgery. People who experience complications and their vision worsens from cataract surgery often have underlying eye disorders and other eye conditions.
Potential complications include:
Posterior Capsule Opacity (PCO) – when the capsule (where your natural lens was) becomes hazy despite the implant in place.
Intraocular lens dislocation – when the implant moves and obstructs your vision.
Eye inflammation.
Light sensitivity.
Photopsia – perceived flashes of light.
Macular edema – swelling of the central retina.
Ptosis – when you develop droopy eyelid(s).
Ocular hypertension –increased pressure in the eye.
Complications continue to decrease as the surgical tools and techniques advance.
According to ASCRS, studies show that 95% of patients who choose a standard intraocular lens (IOL) for cataract surgery have their vision fully restored to its pre-cataract state. If you choose a premium IOL, your vision may even become better than it was before.
To learn more about what causes cataracts, please read our article Cataracts 101.
Contact Florida Eye Today for A Consultation
If you find that your cataracts are decreasing the quality of your life and you want to move forward with cataract surgery, trust the cataract experts at Florida Eye Specialists and Cataract Institute. With over 50,000 cataract surgeries performed they have the experience to treat your eyes and improve your vision and ultimately your quality of life. Consider what's best for you when considering having cataract surgery. Visit our website to schedule an appointment at one of our three locations.