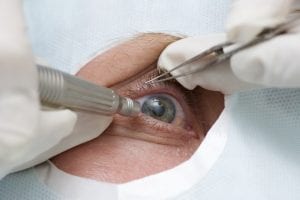 Are You Scheduled for Cataract Surgery?
Continue reading to understand what you'll experience before, during, and after your cataract surgery.
Did you know that cataracts affect over 24 million people each year! At Florida Eye Specialists and Cataract Institute, we have performed over 50,000 cataract surgeries at our surgery center since 1982. As the premiere eye care and surgery center on the west coast of Florida, we've seen it all.
Does it hurt? How long is it? How is surgery performed? How long is the recovery?
We know you have questions, and we want you to understand what will occur during cataract surgery if you're considering the procedure. In this article, we'll share what a cataract is, what types of surgery are available, what happens during cataract surgery, and how long it takes to recover.
What is a cataract?
A cataract is a clouding of the eye's natural lens, which lies behind the iris and the pupil causing a progressive, but a painless loss of vision.
What types of cataract surgery are offered?
During cataract surgery, your cloudy lens is removed and replaced with an artificial lens. The procedure itself is an outpatient procedure at a surgery center or hospital associated with your ophthalmologist. The most common method is called phacoemulsification (phaco). There is also laser cataract surgery.
Phaco cataract surgery
Phaco cataract surgery is the most common method using handheld tools controlled by your surgeon. Small incisions are made in the eye where the clear front covering (cornea) meets the white of the eye (sclera). Sound waves (ultrasound) are used to break the cataract into small pieces. The cataract and lens pieces are then removed so that an intraocular lens implant (IOL) can then be inserted inside the lens capsule.
Laser cataract surgery
Laser cataract surgery is an advanced technique for extracting the cloudy natural lens. The benefits of the laser technology include more accurate information and precision because the laser's unique imaging system provides your surgeon with a reconstructed 3-D view of your eye.
According to the American Society of Cataract and Refractive Surgery, the success rate for cataract surgery is 98% or higher, making it the most common and most successful surgical procedure performed.
What happens during cataract surgery?
When you make the decision to undergo cataract surgery, we'll set an appointment to have a full eye exam before your surgery date and discuss your options for an intraocular lens, which is the implant used to replace your natural lens.
The day of your cataract surgery you'll check into the surgery center or hospital. You'll be given some preoperative eye drops, antibiotics, and a nonsteroidal anti-inflammatory drug to take. Some patients opt to take medicine to help relax and ease any anxiety. Once you're brought into the operating room, you'll receive a topical eye drop and get prepped and draped for the procedure.
During the procedure, you're conscious and laying down. You'll be asked to remain still. You'll see some variations of light during the procedures but will not be able to make out what the surgeon is doing.
To reach your eye lens, a small incision is made near the edge of your cornea. This allows your surgeon to reach the cataract to break it up and suction it out. Once the cataract is removed, your implant will be put into place. The actual procedure time is relatively quick.
Once your procedure is completed, you will be asked to wait in the recovery room for at least 15 minutes for observation. After that waiting period, you will be discharged and able to go home.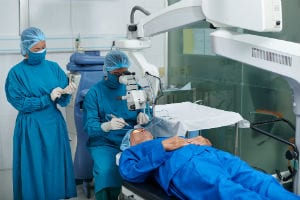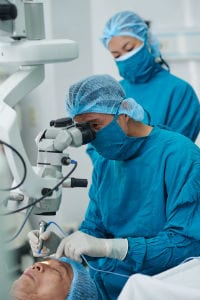 How long does it take to recover from cataract surgery?
Recovery varies but most people can resume normal functions two days after their surgery.
The first day after your surgery you'll have a follow-up appointment with your surgeon to ensure you're not experiencing any complication or discomfort.
During the first week after surgery you'll be given eye drops to take as prescribed. You'll be given instructions on what not to do which includes rubbing your eye, bending your head below your waist, lifting more than 10 pounds and avoiding any strenuous activity. You'll be given an eye guard to wear during naps and overnight sleep. It protects your eyes in case you toss and turn during sleep.
Two weeks after your surgery you'll have a follow-up appointment where you'll receive a full eye exam to measure your visual acuity post-surgery. Should you need a prescription for eyeglasses, you will get them at this time.
One month after cataract surgery, your eyes should be fully healed and adjusted to the new implants.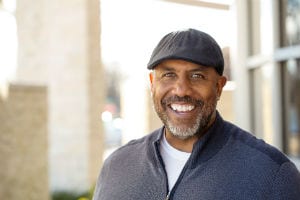 Contact Florida Eye Specialists and Cataract Institute Today for A Consultation
If you are considering cataract surgery, trust the cataract experts at Florida Eye Specialists and Cataract Institute. Visit our website now to view our cataract surgeons and laser cataract surgeons. Call our office at 813-681-1122 to schedule a consultation and discuss what options are best for you.