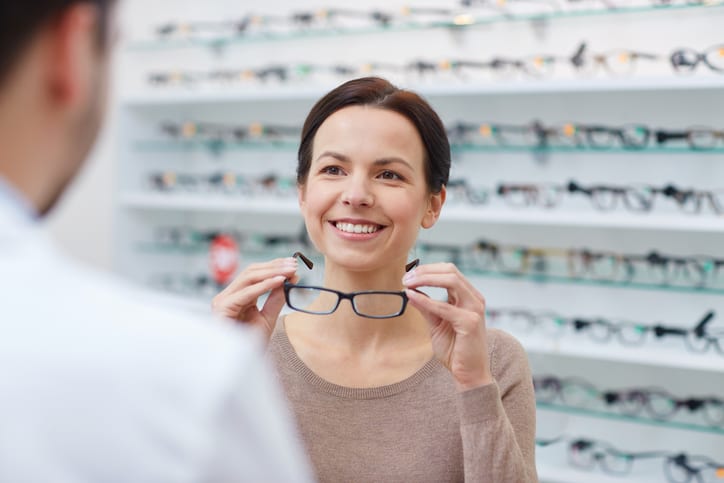 Selecting your new eyeglasses can be a very time-consuming and personal experience. Some people compare selecting a pair of eyeglasses to selecting a pair of shoes. The same shoes may not be the best fit to go to the gym, to the office, and then to a cocktail party. The same idea applies to selecting new eyeglass frames.
We'd like to share some insider tips to help select the best frames for your personal look and style.
First, let's talk about your lifestyle. What does your typical day look like? That will help give you a good idea of what style frame you should choose.
Active individuals who spend most of their day rapidly moving about should consider eyeglasses with a sport frame. The most common sport frames offer a wraparound look and are usually paired with polarized lenses to reduce the glare.
For business professionals who spend most of their day building relationships with clients and colleagues, we would recommend classic frame shapes such as an oval or rectangle. For men, silver, gunmetal, brown and black compliment the most common business dress colors. Brown, golden tones, silver and burgundy tend to compliment women, based on your skin tones.
If it doesn't matter what you do during most of the day and you just want to express your creativity or fashion with your eyeglasses, there are a wide selection of larger fashionable frames in vibrant colors. Select a frame that has that something special to you whether it's the color, the adornments, or shape.
If you are looking for a basic, everyday pair of glasses the most functional shapes are ovals, rectangles and cat-eye frames. Classic colors include browns, blacks and dark blues. Also consider classic patterns like tortoise or stripes. If you wanted to add some styling to an everyday frame, you could select a different color or one with metal accents.
Second, it's important to understand the shape of your face. You may want a certain frame but it may not look best on you. To help you choose a frame you'll be happy over the long term, here's some recommendations of what frame shape would complement your face best.
Individuals with a round face have curved lines in the same proportions, so look at rectangle shaped frames. They make your face appear thinner and longer. Narrow eyeglass frames do the best job of lengthening your face.
If you have an oval face, you have balanced proportions. Choose a frame that also has balanced proportions in height and width. Choosing a frame that is as wide as your broadest part of your face will complement you the best.
If you have a square face, you probably have a strong jaw line. Look at oval shaped frames to lengthen your face and soften any angles you may have. If you're stuck between two pairs, go with the pair that has more width than depth.
At our Ruskin Eye Clinic, we have a full service optical shop offering eyeglasses from premium brands such as Oakley, Ray Ban, and Costa Del Mar. Oakley's selection includes rectangle, round and semi rimless frames. Ray Ban's selection includes full rim, semi-rim and rimless frames. Costa Del Mar's selection includes metal, sport and rimless frames.