Dilip Rathinasamy, M.D. (Dr. Samy)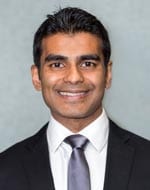 Dilip Rathinasamy, better known as 'Dr. Samy', grew up in Brandon, Florida. He received his Bachelor of Science in Biology from the University of Miami. He attended medical school at the University of South Florida. Dr. Samy completed his internship at Newport News Virginia before returning to the University of South Florida for his Ophthalmology Residency.
Since completing his Ophthalmology training, he has been working in private practice in Brandon and as well as the Tampa Veteran's Hospital. Dr. Samy specializes in cataract surgery. Using the latest techniques and technology, such as laser assisted cataract surgery, Dr. Samy is able to restore vision in his patients and allow them participate more fully in life. Dr. Samy also enjoys serving as an Affiliate Assistant Professor for the USF Residency program helping residents learn and hone their skills as new cataract surgeons.